S690
QL
S690 QL, S690 QL high yield Steel plates, High strength steels S690 QL Plates
S690 QL is a high return structural steel evaluation created in consistence with EN 10025:6:2004.
S690 QL, S690 QL high yield Steel plates, High strength steels S690 QL Plates.
S690 QL material is high temperature treated utilizing the extinguish and temper transform and has great bowing and welding properties.
Because of the materials high quality nature, utilizing S690ql will advance leaner outlined structures with expanded payload limit and vitality proficiency.
Offering an extensive variety of overwhelming work structural steel for our clients. Scaffold plate and building structure boards steel sheet are accessible in different evaluations like straight review, low carbon evaluation and high carbon evaluation as indicated by the prerequisite of our client.
It would be ideal if you allude to the specialized subtle elements beneath alluding to S690 QL.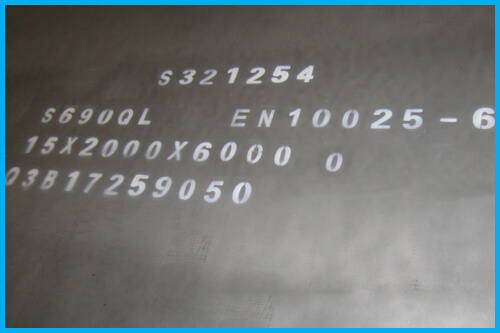 S690 QL - Grade Designation
The grade designation of S690 QL is the following: S = Structural Steel
690 = minimum yield strength (MPa)
Q = Quenching & Tempering
L = Low notch toughness testing temperature

CHEMICAL COMPOSITION
| Grade | C | Si | Mn | P | S | N | B | Cr | Cu | Mo | Nb* | Ni | Ti* | V* | Zr* |
| --- | --- | --- | --- | --- | --- | --- | --- | --- | --- | --- | --- | --- | --- | --- | --- |
| S690 QL | 0.20 | 0.80 | 1.70 | 0.025 | 0.015 | 0.015 | 0.0050 | 1.50 | 0.50 | 0.70 | 0.06 | 2.0 | 0.05 | 0.12 | 0.15 |
MECHANICAL PROPERTIES
Designation
Mechanical Properties (ambient temperature)
Steel Name
Steel Number
Min. Yield Strength Reh MPa
Tensile Strength Rm MPa
Min. % elongation after fracture
Nominal thickness (mm)
Nominal thickness (mm)
≥3 ≤50
≥50 ≤100
≥100 ≤150
≥3 ≤50
≥50 ≤100
≥100 ≤150
S690 QL
1.8931
690
650
630
770/940
760/930
710/900
14
V NOTCH IMPACT TESTING
Grade
Sample Orientation
@ 0°C
@-20°C
@-40°C
@-60°C
S690 QL
Longitudinal
50 J
40 J
30 J
––
Traverse
35 J
30 J
27 J
––
APPLICATION
Machine building
Lifting equipment
Heavy transportation
Steel constructions

Download S690 QL PDF

View S690 QL PDF