STRENX
700
Strenx 700
Strenx 700 wear resistant steel plates
Strenx™ 700 MC is a hot-rolled structural steel made for cold forming, with a minimum yield strength of 700 MPa for stronger and lighter structures.
Strenx 700 MC meets or surpasses the necessities of S700MC in EN 10149-2. Average applications incorporate an extensive variety of segments and parts in requesting load-bearing structures.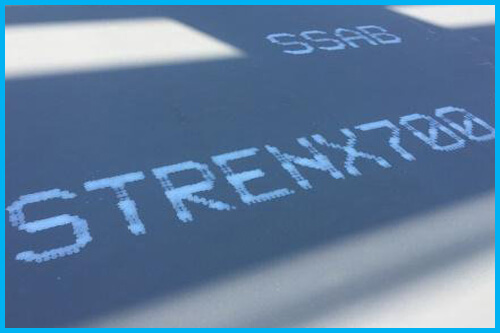 Strenx 700 MC comes in loops, opening curls or slice to-length sheets.
Strenx 700 is a high quality basic steel (700 MPa) with exceptional durability for a few of burden conveying structures and different applications. Driving elements are uniform properties, simple to weld and conceivable to curve genuine tight.
CHEMICAL COMPOSITION
| Grade | C max | Si max | Mn max | P max | S max | Al max | Nb max | V max | Ti max |
| --- | --- | --- | --- | --- | --- | --- | --- | --- | --- |
| Strenx 700 | 0.12 | 0.21 | 2.10 | 0.020 | 0.010 | 0.015 | 0.09 | 0.20 | 0.15 |
MECHANICAL PROPERTIES
| Thickness Mm | Yield strength Rp 0.2, min MPa | Tensile Strength Rm MPa | Elongation A5 min % | Min. inner bending radius for a 90° bend3) |
| --- | --- | --- | --- | --- |
| 2 - 3 | 700 | 750 - 950 | 10 | 0.8 x t |
| 3.01 - 6 | 700 | 750 - 950 | | 1.2 x t |
| 6.01 - 10 | 700 | 750 - 950 | | 1.6 x t |
PROPERTIES
Environmental friendly
Technical support
Less weight
Better fuel economy
Increased payload
"Close to customer"
Stay within legal limits for on-road transportation
Lighter products


Download Strenx 700 PDF

View Strenx 700 PDF